Residential Accommodation
Homestay Accommodation
Private Rental
RESIDENTIAL ACCOMMODATION
Our Residential Accommodation is all situated close to the school and is of a very good standard. St Andrew's College Cambridge owns six of its own residence buildings. Students in each of these residences are looked after by a permanent member of staff who lives on site at the residence in separate accommodation; all the residences are available exclusively to St Andrew's Cambridge students throughout school term time. The smallest residence is home to eight students, whilst the largest houses 18. This means that they are small, friendly environments for students to live in.
Our residential accommodation offers a safe, comfortable and convenient alternative to homestay accommodation, and they are located near the Station Road and Regent Street sites, such that students living in residence usually walk between their residences and school – though some prefer to live life in the Cambridge way, and cycle.
WHY LIVE IN A HALL OF RESIDENCE?
Live close to school
Single and twin rooms available
Breakfast and dinner provided with special diets catered for
Well-trained, live-in House Managers
The opportunity to live with students from all over the world, improve your English and experience new cultures
---
MEET THE HOUSE MANAGERS
Adriana is a House Manager at one of our halls of residence. She has been working for the college since September 2017. She graduated with a degree in Jurisdiction and Administration and is proud to be a House Manager for St Andrew's. The House Managers at St Andrew's College Cambridge residences are all permanent, full-time employees of the college.
They live in accommodation at their residence 52 weeks a year, and work hard to look after the students they are responsible for. Most of our House Managers have been with us for many years, and all of them are DBS police record checked.
They are all trained and qualified in food preparation, first aid, fire marshalling, allergens, and child protection.
WHAT ADRIANA SAYS
I love my role as House Manager. I describe myself as a dedicated person. I enjoy classical music especially Richard Clayderman and Yiannis Chrysaomallis and I also like playing tennis. I look at LIFE as a challenge and sometimes take risks as I believe there is a reason for everything. I am a big fan of adventure and doing spontaneous things
Flickr Album Gallery Powered By:
Weblizar
HOMESTAY ACCOMMODATION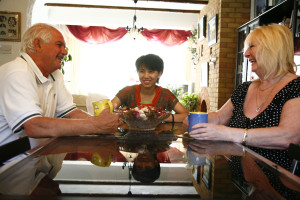 Living in homestay accommodation is the perfect way to really get to know Cambridge and the UK. You will be able to experience British culture first-hand and learn all about Cambridge from the people who know it best.
Each of our homestay hosts offers a unique home environment and no two homestays are the same! Our homestays can be large or small, young or old, and from many different ethnic and cultural backgrounds, but all are experienced in caring for our overseas students.
Cambridge is a relatively small city, with most family homes located outside the centre of town. The majority of our families live 3-5km from the school, meaning that most students either cycle to school or use the excellent local bus service.
What is included:
Single rooms
Half-board (breakfast and dinner provided)
Special diets catered for. Please let us know if you have any allergies or special dietary requirements
Laundry – homestay hosts offer a weekly laundry service
We also have a dedicated Accommodation Officer based at the school, who can assist with any questions or problems you may have during your stay.
---
Meet Mike and Roz (A St Andrew's Homestay Host)
Tell us a bit about yourselves.
We are Mike & Roz. Mike works as an IT Manager at Cambridge University and his interests include local politics and football. Roz enjoys machine embroidery & textiles, gardening, baking and spending time in the countryside.
We have two grown-up children: Hannah, who is 21 years old and lives in London, and Jack, who is 20 and is reading Chemistry at Hull University. We also have two cats, Cocoa & Binks and two chickens, Bluebelle & Sprout!
How long have you been hosting students?
We have been hosting students for St Andrew's College & Select English for around 14 years, and we previously hosted students in Canterbury for about 6 years.
How many students have stayed with you and which countries have they come from?
We have hosted around 50 students, including shorter stay summer students. They have come from all over the world including China, Japan, Russia, Siberia, Brazil, Kazakhstan, United Arab Emirates, Spain, Italy and Austria.
Could you describe some of the meals you prepare for your students?
We always ask if there are any foods the students don't like to eat and keep a list on the fridge of meals they have really enjoyed for future reference. Meals may include:
An English roast dinner
Salmon
Chicken satay
Curry
Cod
Chicken fajitas
Lasagne
Pizza & salad
Fresh fruit & yogurt (for breakfast)
And finally, what do you enjoy about hosting?
It has been a wonderful experience for my children to meet students from so many countries while they were growing up. We enjoy helping the students to make the most of their stay in Cambridge and learning about their country and culture.
Renting a room, apartment or house in Cambridge
We take care to inspect review and maintain the accommodation we offer. We'd be happier and believe it is safer for our students to stay in our accommodation. If you are 18 and you prefer to arrange your own accommodation, you are allowed to do so but please read the advice below before doing so.
Under 18s are not permitted to arrange their own accommodation.
If you're planning to rent a house, flat or room, make sure you understand what's involved. You can rent a property privately or through a letting agent.
Different ways to rent privately
The main types of accommodation that students can rent privately include:
accommodation let by private landlords
accommodation in private halls of residence
a room in the same property as the landlord.
Accommodation let by private landlords is usually flats or houses which you may rent on your own or with other people. Household bills are normally separate to the rent, but some items may be inclusive, for example, water charges. The tenancy agreement should outline if the rent includes any other payments.
Halls of residence that are owned and managed by private companies are becoming more common. Some are purpose-built as student accommodation and run as commercial enterprises and have very specific entry requirements. Bills are generally included in the price of the accommodation.
If you rent a room in your landlord's home and share some accommodation with them, such as a bathroom and kitchen, then you may be what's commonly known as a lodger. A lodger may have their own room, usually a bedroom, but they don't have exclusive use of that room. This means that their landlord can enter the room without their permission. Lodgers generally pay a charge that covers rent and bills and in some cases meals may be provided too.
Using a Letting Agent
It is advisable to use a letting agent. A letting agent acts on behalf of a landlord and the landlord generally pays for this service.
What does a letting agent do?
A letting agent helps a landlord to find a tenant for their property. Some also manage the property while the tenant is living there. How to choose a letting agent?
It's best to use an agent that has signed up to the National Approved Letting Scheme (NALS), or is a member of a self-regulating body such as the:
Association of Residential Letting Agents (ARLA)
National Association of Estate Agents (NAEA)
Royal Institution of Chartered Surveyors (RICS)
UK Association of Letting Agents (UKALA).
What are you likely to have to pay?
Fees can vary from one letting agent to another, so it's best to shop around and ask letting agents for details of their fees. You should also ask for receipts for any payments you make.
Administration fee
Agents can charge an administration fee. This may cover things like drawing up tenancy agreements, inventories and checking references.
Holding deposit
Agents can charge a holding deposit if you've agreed to take a property but haven't yet signed the tenancy agreement.
If you're asked to pay a holding deposit make sure you're aware of what will happen before you pay any money. It will be useful to know:
in what circumstances the deposit can be returned, for example, if you fail a credit check do you get the deposit back?
in what circumstances are you entitled to withdraw, for example, if you change your mind about the tenancy is the deposit refundable?
if the landlord decides not to go ahead with the tenancy, will you get the deposit back?
if the tenancy doesn't go ahead for whatever reason, are you tied to using that agency because it transfers the deposit to another property?
If you do pay a holding deposit it is usually deducted from the security deposit you pay when you move in.
Security deposit
Agents normally require payment of a deposit as security against damage or getting into rent arrears. A typical security deposit is one month's rent.
A letting agency cannot charge you:
to register with the agency
for providing a list of properties available for renting
Things to check before registering with a letting agency
You should find out the following information from an agency before registering with them to avoid future problems:
details of the services it provides
full details of the charges it makes
whether it is a member of a trade body such as ARLA, NAEA, RICS or NALS as it must have a complaints procedure and protect your money if the agency goes out of business
whether the agency has a complaints procedure and whether it is a member of an ombudsman scheme
Things to ask the agent before signing a tenancy agreement
the terms of the tenancy agreement
the amount of rent you must pay and whether the rent includes any service charges
the amount of the security deposit/rent in advance
details of the tenancy deposit protection scheme it uses
the procedure for getting repairs done.
Furnished accommodation
What furniture must be provided
If a property is let furnished as a tenant, you could expect a level of furnishing that would be reasonable to allow you to live in the accommodation. This would include:-
table and chairs in the kitchen/living room
sofa and/or armchairs in the living room
a bed and storage for clothes in each bedroom
heating appliances
curtains and floor coverings
a cooker, fridge, kitchen utensils and crockery.
Any upholstered furniture must comply with fire safety regulations (see under Furniture fire safety, below).
If you think that the provision is not adequate, you can provide your own furniture, unless the tenancy agreement does not allow this.
If you are not happy with the condition of the furniture when you move in, you could consider discussing this with your landlord. Your landlord might agree to replace it. You could check what was listed in the inventory (if one exists) (see below), or tenancy agreement about the condition of the furniture.
Inventory
An inventory is a list of furniture and other contents which have been provided in the accommodation by your landlord.
Your landlord usually writes the inventory. It should list everything provided in the accommodation for use by you, with a description of the items, including their age and condition.
If there is no inventory, you can create your own. You will need to do this as soon as you move in. You'll need an independent witness to sign to say that they have done the checks. This cannot be a close friend or relative.