OUR STUDENTS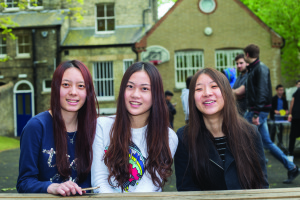 Our Students come from all over the world to study at St Andrew's College Cambridge. They are encouraged to learn about the lives and cultures of others, based on our college ethos of consideration, tolerance and mutual respect. It is a precious chance to collaborate with people from very different backgrounds, working together with integrity and compassion in their shared endeavours.
In this sense, life at St Andrew's College Cambridge is a microcosm of the global market place in which all today's young people will go on to live and work. The preparation for that world offered by their time  in Cambridge will enable them to prosper and flourish.
That wonderful, fusion that is St Andrew's College Cambridge is a transformative opportunity that our students embrace.
In the previous academic year, we had students from the following countries:
| | | |
| --- | --- | --- |
| Angola | Albania | Armenia |
| Bulgaria | Cambodia | China |
| Czech Republic | Georgia | Hong Kong |
| Indonesia | Iran | Italy |
| Kazakhstan | Libya | Macau |
| Malaysia | Mexico | Nigeria |
| Oman | Portugal | Russia |
| Slovakia | Spain | Switzerland |
| Taiwan | UK | Ukraine |