UNIVERSITY:  HOW WE PREPARE YOU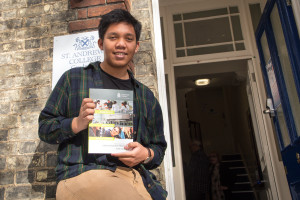 At St Andrew's College Cambridge we want you to be successful in every aspect of your future life. It is our aim to prepare you as much as possible for university and provide support to you in both the application and decision-making process.
Whatever you're interested in, we can help to find the right university and course for you.
PROGRESS TO UNIVERSITY
St. Andrew's Cambridge has a proud record of helping students into the top universities in the United Kingdom. Preparation for applications begins soon after the start of A-level and Foundation courses. The application process can be complicated and daunting, so we have a team of experienced specialists ready to help our students with their applications.
There are over 100 universities in the United Kingdom and they offer an amazing range of courses in all academic disciplines. Your personal tutor will start by introducing you to the options available to you. You'll talk about the different courses that relate to your preferred subject, and start to learn about which ones are most suitable for you.
UNIVERSITY FAIR
We invite several universities to the college each year in October to attend our fair. This gives students the opportunity to talk to several university staff members from all over the UK and to ask questions about the courses available.
TUTOR SUPPORT
Each student will have a personal tutor to support them throughout their course and with their application. Our personal tutors are carefully selected from our academic team with the needs of the individual student in mind.
The relationship between the personal tutor and student is an important one, students will meet with your tutor once a week to discuss any problems they have and what the college can do to help. The tutor will follow the academic development of students and ensure that any problems are properly addressed.
Student's progress will be communicated to their agency or parents on a regular basis. Tutors are also able to assist with non-academic matters such as health and welfare and making good choices outside the classroom.