HOMESTAY ACCOMMODATION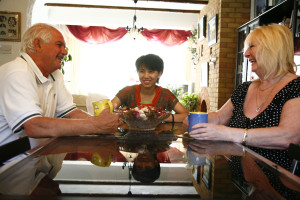 Living in homestay accommodation is the perfect way to really get to know Cambridge and the UK. You will be able to experience British culture first-hand and learn all about Cambridge from the people who know it best.
Each of our homestay hosts offers a unique home environment and no two homestays are the same! Our homestays can be large or small, young or old, and from many different ethnic and cultural backgrounds, but all are experienced in caring for our overseas students.
Cambridge is a relatively small city, with most family homes located outside the centre of town. The majority of our families live 3-5km from the school, meaning that most students either cycle to school or use the excellent local bus service.
What is included:
Single rooms
Half-board (breakfast and dinner provided)
Special diets catered for. Please let us know if you have any allergies or special dietary requirements
Laundry – homestay hosts offer a weekly laundry service
We also have a dedicated Accommodation Officer based at the school, who can assist with any questions or problems you may have during your stay.
---
Meet Mike and Roz (A St Andrew's Homestay Host)
Tell us a bit about yourselves.
We are Mike & Roz. Mike works as an IT Manager at Cambridge University and his interests include local politics and football. Roz enjoys machine embroidery & textiles, gardening, baking and spending time in the countryside.
We have two grown-up children: Hannah, who is 21 years old and lives in London, and Jack, who is 20 and is reading Chemistry at Hull University. We also have two cats, Cocoa & Binks and two chickens, Bluebelle & Sprout!
How long have you been hosting students?
We have been hosting students for St Andrew's College & Select English for around 14 years, and we previously hosted students in Canterbury for about 6 years.
How many students have stayed with you and which countries have they come from?
We have hosted around 50 students, including shorter stay summer students. They have come from all over the world including China, Japan, Russia, Siberia, Brazil, Kazakhstan, United Arab Emirates, Spain, Italy and Austria.
Could you describe some of the meals you prepare for your students?
We always ask if there are any foods the students don't like to eat and keep a list on the fridge of meals they have really enjoyed for future reference. Meals may include:
An English roast dinner
Salmon
Chicken satay
Curry
Cod
Chicken fajitas
Lasagne
Pizza & salad
Fresh fruit & yogurt (for breakfast)
And finally, what do you enjoy about hosting?
It has been a wonderful experience for my children to meet students from so many countries while they were growing up. We enjoy helping the students to make the most of their stay in Cambridge and learning about their country and culture.