HOMESTAY ACCOMMODATION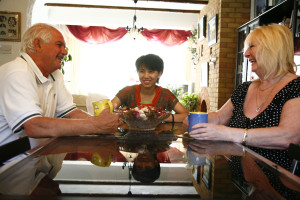 Living in homestay accommodation is a good way to really get to know Cambridge. You will be able to live in a normal household with people who live and work here and know the city well. A homestay normally offers a more peaceful environment where you can concentrate and focus on your studies.
Each of our homestay hosts offers a unique home environment and no two homestays are the same. Our homestays can be large or small, young or old. They may have children or pets (normally cats or dogs) and they may be from many different ethnic and cultural backgrounds. Many have been hosting students for several years and are experienced in caring for our overseas students. Cambridge is a relatively small city and our school sites are located near the centre and near the rail station. This means that there is very little accommodation available close to the school. Most family homes are located outside the centre of town. The majority of our homestays live 3-5km from the school so most students either cycle to school or take the bus. Many people in Cambridge cycle and you can hire or buy a bike during your stay.
What's included:
Single rooms
Half-board (breakfast and dinner provided)
Special diets catered for. Please let us know if you have any allergies or special dietary requirements
Laundry – homestay hosts offer a weekly laundry service
We have a dedicated Accommodation Team based at the school on Station Road. They can assist with any questions or problems you may have during your stay. Please come and talk to us. Your feedback is important and will help us to improve. We want all of our students to be happy in their accommodation as it forms a large part of their experience at St Andrew's College.
---