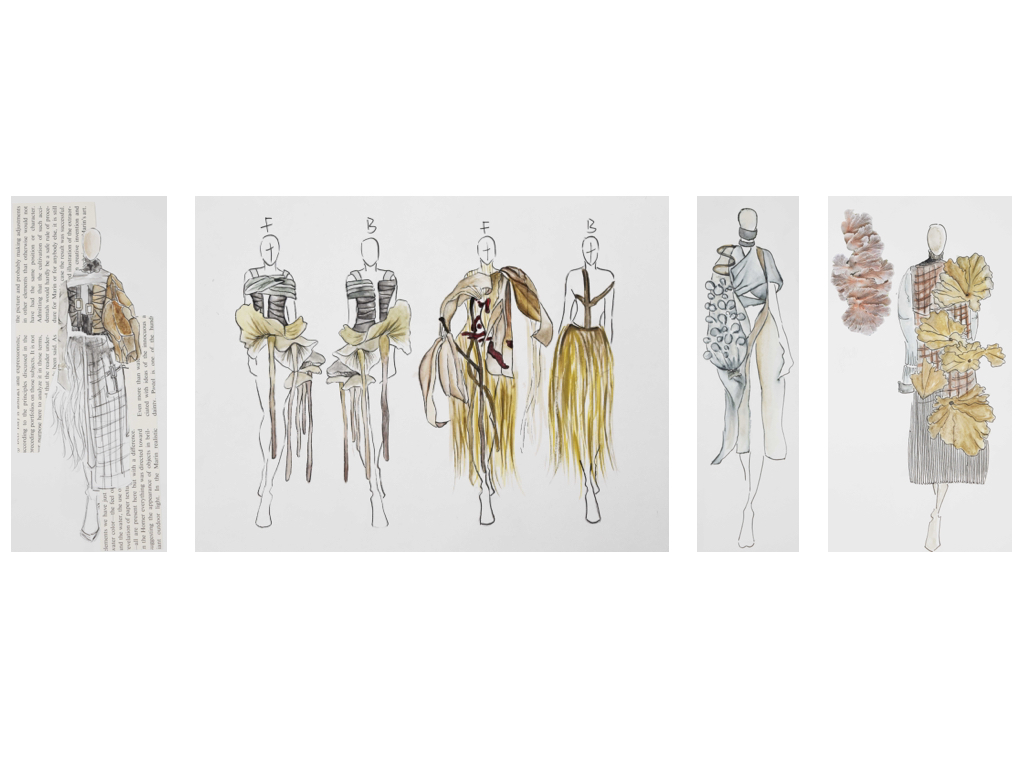 fashion & textiles foundation
The fashion and textiles foundation course is a preparation course for university for any student that has a keen interest in fashion.
The course offers a broad range of specialisms that include life drawing, painting, fashion, textiles, fine art, 3D Design, graphic illustration an installation art. This course has a strong art and design bias. You will learn to develop concepts in a creative design / craft studio environment with support from our knowledgeable and dedicated art team. There are a broad range of future careers available to you, and previous students have gone on to work in the commercial fashion sector, accessory design, textile design, theatre costume design, graphic design, fine arts and photography.
We also offer Art, Architecture and Media Foundation Courses
Students will undertake a rotation throughout the department learning a broad range of skills, demonstrating their creativity. The course curriculum is designed to help students prepare a portfolio which showcases their abilities and enables them to make informed decisions about their chosen specialism at university.
In Fashion and Textiles you will have the opportunity to learn fashion, fashion styling, textiles, print-making, fine art, photography, 3D design, life drawing and contextual studies. The emphasis is on experimentation with processes and materials to create final work.
Previous students have gone on to work in the commercial fashion sector, Bespoke Tailoring, Accessory design, Textile design, Theatre Costume Design, Fashion Illustration, Fashion Styling and Production at prestigious universities.
These are the entry requirements for our Fashion & Textiles Foundation Course.
| | | |
| --- | --- | --- |
| | SEPTEMBER START | JANUARY START |
| COURSE LEVEL | RQF LEVEL 3 | RQF LEVEL 3 |
| AGE AT START OF COURSE | 16.5 | 17 |
| ENGLISH LEVEL | IELTS 5.0 | IELTS 5.5 |
Here's some key information about the Fashion & Textiles Foundation Course.
| | | |
| --- | --- | --- |
| FASHION & TEXTILES | September Start | January Start |
| Minimum Age | 16.5 | 17 |
| Course Length | 3 terms | 2 terms* |
| Start Dates | 7th September 2020 | 11th January 2021 |
| English Language Requirement | IELTS 5.0 | IELTS 5.5 |
| Hours of study per week | 23 (24 in term one) | >30 |
| Location | Cambridge | Cambridge |
| Tuition Fees per Term | £6900 | £6900 |
| Accommodation Options | Residential or Homestay | Homestay |
You will study the following subjects on the Fashion & Textiles foundation course.
Sculpture & 3D Studies
Life Drawing
Fine Art
Photography
Textiles & Textural Studies
History of Art
Portfolio & E-Portfolio
English (IELTS/EAP)
University Preparation Course
Read the full Fashion & Textiles Foundation Course Syllabus here
Here's some of our recent fashion & textile student portfolio work
To apply for a course, go to our APPLY page. You can choose to apply online or download our application forms and scan them to us. Please ensure you read the instructions on the page so you complete the correct forms.