Student Guide
BEFORE YOU ARRIVE
WHAT TO BRING
Passport/ID Card
All documentation sent to you by St Andrew's or UKVI (Acceptance Letter, Accommodation Letter, CAS Statement, BRP letter, if applicable)
Warm clothing including hat, scarf and gloves
Clothes for warmer weather
Umbrella and raincoat
Towels
Adaptor/Transformer to charge your phone and to use electrical appliances such as hairdryers. The standard voltage in the UK is 230 volts. Your adaptor must meet UK standards or it will be confiscated for health and safety reasons
Prescription medication. This must be in its original packaging with the labels translated into English
The school contact information. You should store the following number in your phone in case of emergency. +44 7985 026835
AIRPORT TRANSFERS
Getting from the airport to your accommodation.
Once you have booked your flight to the UK, please let us know so we can inform your accommodation about when to expect you. If you would like us to arrange an airport transfer then please complete the following arrival form and we will arrange it for you and send you a confirmation. Prices for airport transfers are as follows;
We use a reputable taxi company for our airport transfers who have worked with us for many years. All drivers have been DBS checked.
| | |
| --- | --- |
| Heathrow | £155 |
| Gatwick | £175 |
| Luton | £105 |
| Stansted | £95 |
To book an airport transfer or tell us your arrival details, please scan the QR Code below to complete our arrival form.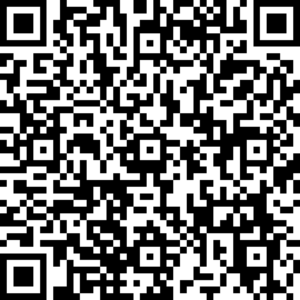 YOUR FIRST WEEK AT ST ANDREW'S
On your first day, you will need to come to Regent Street at 9am for registration. Please bring the following
Your passport
Any documents sent to you by UKVI
Pen and Notebook
Details of any medication you are taking and any allergies you have
Emergency Contact details for your parents and guardians
What will you do on registration day?
All students will complete a registration form
You will need to read and complete a Student Code of Practice and an Internet Acceptable Use Policy
A member of staff will take a copy of your passport and visa
If we have received tour BRP, we will give it to you (if applicable)
We will take your photo for an ID card and for the school database
Our Head of Pastoral Care will help you to complete the forms to register you with the doctor
We'll give you your lesson timetable
You will take a Maths test and an English test
There will be talks and social activities to attend during the first week and we'll give you a schedule with the details
SAFETY ON THE STREETS
When you move into your accommodation, ensure that you find suitable and safe routes to school, the town centre, shops etc. These should be in well-lit areas. Avoid walking in dark alleyways, near the river, or through parks.
If you are walking somewhere, walk confidently facing oncoming traffic. If you are crossing the road, make sure that you look both ways before crossing, or use a pedestrian crossing. Please be aware that vehicles may drive on the opposite side of the road from your country.
If you are travelling at night, you should not walk around alone. We recommend that you walk in groups of 3 or more. It is preferable to use public transport, or to take a taxi.
Do not carry large amounts of cash or valuables with you.
Always keep your bag and coat with you. Do not put them anywhere where you cannot see them. Carry your bag close to you with the clasp/zips facing inwards.
Make sure that you carry your mobile phone and that it is topped up. You should add the number of the School Emergency Number (07985 026 835 as contacts. You should also store the number of your host family or house manager.
Do not talk to strangers and avoid confrontation.
If you ever feel like you are being followed, cross the street. If you are still concerned, go to the nearest public area such as a restaurant or pub, and ask the staff to help you.
STATION ROAD
If you are attending the Station Road campus on your Bicycle you will need to dismount and walk your bicycle to the rear of No. 9 Station Road where you can lock it up.
If you attend the Station Road Campus on foot you need to stay within the pathways marked and do not enter the area allocated to traffic.
If you come in from the top entrance (next to 15 Station Road) please use the crossing provided.
When leaving one of the college buildings at the Station Road campus to go to another building or the Common Room please ensure you remain within the area set aside for pedestrians.
These actions have been taken to keep you safe please ensure you follow the directions and information shown on the signs around the campus.
REGENT STREET
Regent Street is a busy road. Please ensure you cross the road at the crossing and pay attention to traffic, pedestrians and cyclists.
SAFETY ON ACTIVITIES/EXCURSIONS
A teacher/social organiser will be given responsibility for you when you are on an activity or excursion. You will be advised who that person is on each activity. Make sure you take their contact number and store it on your phone.
Listen to your teacher/social organiser. They will advise you where you should meet them, and how much free time you have.
Make sure you return to the meeting point on time.
Be aware of your surroundings. Take note of any landmarks or shops to help you find your way around. If you get lost, it will help us to find you.
Do not walk around new places alone. Stay in small groups and keep to central, busy areas of town.
TIPS FOR USING PUBLIC TRANSPORT
Check the bus timetable to ensure that there is transport available, and so you do not spend a long time waiting at the bus stop. You can check the bus timetables for Cambridge here at http://www.stagecoachbus.com/routemaps-cambridge.aspx
If you need to take a bus, try to avoid waiting alone at bus stops at night. When you get on the bus, sit downstairs near to the driver if possible.
If possible, ask someone to meet you from the bus. If that is not possible, once you are on the bus, it is a good idea to let your host family or house warden that you are on your way home.
TIPS ON USING TAXIS,
If you need to use a taxi, call Panther Taxis on 01223 715715. Store the number in your mobile phone in case you need it.
Before you get in the taxi, check that it has an official taxi license plate. This is normally on the rear of the vehicle by the registration number.
If the taxi has a meter, you will be charged based on the distance travelled. If the taxi doesn't have a meter, you should agree the price in advance with the driver to avoid any misunderstanding.
All Taxi drivers must display there taxi licence badge with a photo of their face on it
We recommend that you sit in the back of the vehicle. Ideally behind the driver.
Have your cash ready to pay the driver and pay after you have left the vehicle.
It is acceptable to ask the taxi driver to wait until you have entered your accommodation before driving off.
ELECTRICAL SAFETY
It's really important to ensure you use electrical items safely. Our maintenance team will periodically carry out portable appliance testing on all electronic items in the college and residences and any found to be unsafe will be confiscated. We recommend that you purchase electrical products such as Hairdryers and Laptops in the UK to ensure they comply with UK regulations. You need to ensure that any adaptors you bring are UK compliant. If they're not they could cause a fire. Please be vigilant and we aware of the following danger signs;
Hot plugs and sockets, fuses that blow for no obvious reason, flickering lights, scorch marks on sockets or plugs, are all signs of loose wiring or other problems.
If the coloured wires are sticking out of a plug, water and debris could get inside and potentially cause a fire
If you plug too many appliances into an adaptor you could overload the power supply. This causes the power to
Multi-point adaptors should not be used unless absolutely necessary, and should only be used if authorised by the responsible person for the building. No more than one adaptor may be used at any one mains outlet.
The outer covering of a power lead must not be damaged.
All mains adaptors used should be fused and comply with BS5733. Adaptors found that do not comply will be removed
If you are unhappy about something, please tell us….
We want you to enjoy your time at St Andrew's so it is important that you talk to us if you are unhappy about anything. The first person you should talk to is your teacher or the Principal (Wayne Marshall). Explain what the problem is and he will try to help. Mr Marshall's office is at Regent Street . You can email Mr Marshall on wayne.marshall@standrewscambridge.co.uk or you can call on 01223 323718.
If your teacher or Mr Marshall can't help you, there are other people you can talk to:
Usually we can deal with problems easily and quickly, but if you want to make a formal complaint, then you will need to do this by writing to The Managing Director of Dukes Education, Mr Tim Fish on